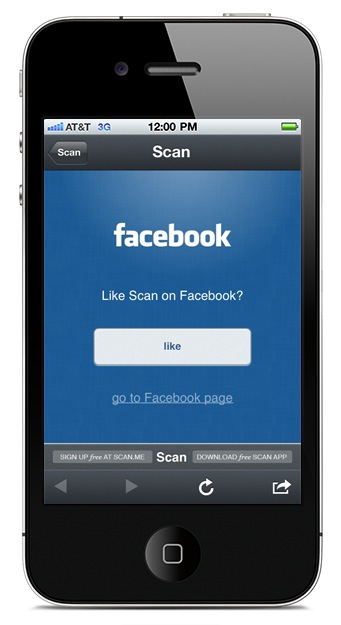 QR codes have many uses and are becoming a popular alternative to long URLs, especially on mobile devices, because they make information easily accessibe.
With the rise of QR codes from 2010 to 2011, 2012 is being called "The Year of the QR Code." 
While the most popular use is to secure a coupon or discount, you can also make it easier for people to Like your FaceBook Page.
A professional approach to this is to use the online service Scan.me. It's FREE, very simple, and provides a polished user experience—especially on mobile devices. Note: this service provides so much more than this FaceBook Like option. Be sure to explore it more after setting up your first QR code.
Three easy steps
After registering you're only three steps away from having your Like FaceBook Page QR code. 
1. Select the type of QR code. In this case, from the Social Media Action menu, choose: FaceBook–Scan to Like
2. Enter your FaceBook Page name and URL.
3. Customize your QR code by choosing the color and text.
That's it. Now you can download and use it in print materials.
Create Your Like FaceBook Page QR Code